Canterbury celebration marks Channel Tunnel treaty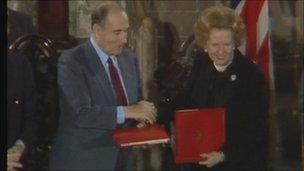 The 25th anniversary of the signing of the agreement between Britain and France to build the Channel Tunnel is being marked at a celebration in Kent.
The Treaty of Canterbury was signed in 1986 in the presence of President Francois Mitterrand and the then prime minister, Margaret Thatcher.
The anniversary celebration is taking place in the Chapter House at Canterbury Cathedral.
It is being hosted by Eurotunnel chairman Jacques Gounon.
The Treaty of Canterbury set out the conditions for how the tunnel would be built.
Work began on the UK side in December 1987 and on the French side in February the following year.
The two tunnelling teams met under the English Channel on 1 December 1990.
Since it opened in 1994, more than 250 million travellers have used the tunnel.
Related Internet Links
The BBC is not responsible for the content of external sites.