'Arsonist' makes threat to Kent police officer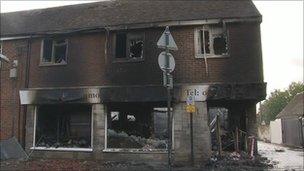 The hunt for a serial arsonist who is believed to have targeted five Kent businesses has been stepped up after threats were made to a police officer.
The threat was sent in an e-mail to a local newspaper in the county, which police are treating seriously.
Computer specialists at Kent Police are examining the message, whose sender claims to have started the fires.
The first was on 28 October, when a blaze damaged a shop and the offices of MP Hugh Robertson in Lenham.
The most recent fire was on 30 January, when a garage in Headcorn was targeted and the number five daubed on the building.
The three other arson attacks were at a garage in Boughton Monchelsea on 29 December; Warmlake on 28 January, when a bathroom and kitchen showroom was targeted, and on 29 January at a garage in Ulcombe.
Each of the buildings had been daubed with a yellow painted number in a circle to signify the order of the attacks.
Police have previously received an e-mail from a person admitting responsibility.
It is also understood that another e-mail was sent to a media organisation saying it would be targeted if it did not continue its coverage of the attacks.
Related Internet Links
The BBC is not responsible for the content of external sites.