Kent fire crews rescue sick elephant at Howletts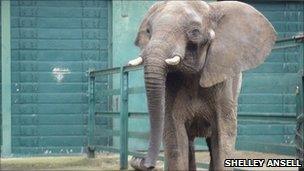 A sick elephant that had collapsed on its side at a Kent animal park had to be winched upright by fire crews.
Kent Fire and Rescue Service was called to Howletts Wild Animal Park near Canterbury at 0930 GMT.
Keepers said Umna, a 13-year-old African elephant, had collapsed after becoming seriously ill with colic.
Faversham watch manager Ian West said: "Hopefully this will be a once-in-a-career incident but it'll definitely stick in my memory."
Neil Spooner, the animal director at Howletts, said he found the elephant collapsed on its side just after 0730 GMT.
He said: "She was lying down in her bedroom on her right side and her left side appeared bloated.
"It became immediately obvious to me that this was colic, a life-threatening condition.
"The main priority with colic is to get the animal up and moving."
Howletts staff made two attempts to lift the two-tonne animal using ropes and a forklift truck before calling the fire service.
Mr West said crews from Faversham and Whitstable were joined by members of the urban search and rescue team.
He said: "Our team is more used to rescuing cattle and horses, so we explained to the park team how we would like to go about the rescue, based on our expertise.
"We placed straps around the front of Umna's body and then used a winch to lift her legs into a 'begging' position.
"As soon as she was able to manage her own weight, we released the straps and she walked free."
Related Internet Links
The BBC is not responsible for the content of external sites.