Claims for pothole damage treble in Kent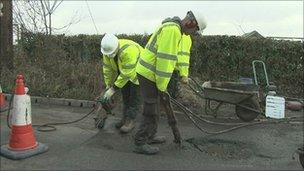 The number of claims filed by drivers in Kent for pothole damage nearly trebled last year to 3,474, figures released by the county council show.
It has so far paid out £56,113 to settle compensation claims lodged in 2010, but the figure will rise because many remain outstanding.
In 2009, the council paid out £111,234 after 1,196 claims for vehicle damage.
The council said fixing potholes was its top priority on the roads, which it wanted to keep as safe as possible.
The head of AA roads policy, Paul Watters, said the increase in the number of claims against Kent County Council (KCC) was a big leap.
"It is disappointing there are so many claims because it shows there are so many roads at breaking point that need proper repair," he said.
"Potholes signify that the road is probably past its sell-by date and could do with a decent repair.
"But it is probably fairly frustrating for the council because they did invest extra money is fixing potholes last year.
"The government gave them £2.4m and they topped it up to £6.5m. It just shows you the ravages of the winter."
Not all the claims for damage against KCC were successful. In 2009, the average paid out for successful claims was more than £300.
KCC said it had more than 60 crews working on pothole repairs - twice as many as normal.
"This workforce gives a 'rapid response' to tackling the most critical potholes," it said.
"Kent is bigger than other counties and has more than 5,000 miles of roads to maintain.
"Initially, we are having a crackdown on dangerous potholes. In the spring we will be carrying out a much larger repair programme."
Related Internet Links
The BBC is not responsible for the content of external sites.