Protest as Lydd airport inquiry starts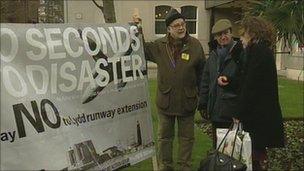 Protests have been held as a public inquiry into plans to build a new terminal building and extend the runway at a Kent airport got under way.
Campaigners against the expansion of Lydd airport say it will bring noise pollution and damage wildlife in one of the South East's most tranquil sites.
But business leaders back the plans, which they say will bring jobs to an area desperately needing regeneration.
The inquiry, expected to last 13 weeks, is at Shepway Civic Centre, Folkestone.
After being formally opened on Tuesday, it will be adjourned for the rest of the week to allow site visits.
The £25m expansion plan was approved by Shepway District Council in March 2010 after a seven-hour meeting.
The airport's owners say they want to build a modern regional airport on the Romney Marsh.
"The numbers of planes we are talking about are four landings and four take-offs a day and we have given a guarantee that we are not going to be flying at night," said senior air traffic controller Tim Maskins.
"We hope that the local community will find that the intrusion on their lives will not be nearly as bad as some have feared."
The new terminal would replace the existing 1950s building. As well as a runway extension of almost 300m (328yds), the council approved a 150m (164yds) runway starter extension.
Those for the development include two groups of local businesses and the Channel Chamber of Commerce. Those against include the RSPB, Protect Kent and Natural England.
The RSPB said the Dungeness peninsula was one of the most important and sensitive wildlife habitats in the UK.
"Any further development of Lydd airport threatens the ability to protect this special place which provides much needed space for both wildlife and the people who come here to enjoy it," said south east conservation manager Sam Dawes.
But Philip Carter, chairman of Shepway Economic Regeneration Partnership said: "You have to choose whether you are picking for the people and the jobs or the pebbles and the newts.
"People are looking for jobs and redevelopment."
Related Internet Links
The BBC is not responsible for the content of external sites.