Driver cleared of killing Pc Phillip Pratt on Kent road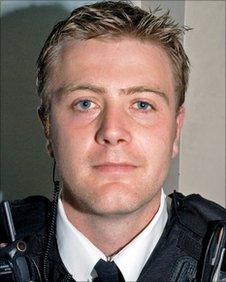 A motorist accused of killing a Kent police officer as he tried to divert traffic on a dual carriageway following a crash has been cleared by a jury.
Stephen Pirie, 49, from Broadstairs, was acquitted of causing death by dangerous driving and death by careless or inconsiderate driving.
Pc Phillip Pratt died on 14 June 2009 when he was hit by a vehicle on the A249 at Bobbing, near Sittingbourne.
The 26-year-old was fatally injured while putting out diversion cones.
Flags at police stations in Kent were flown at half mast following his death.
In a statement following the acquittal at Canterbury Crown Court of Mr Pirie, of Ramsgate Road, Pc Pratt's parents, Ted and Chris, and his sister Julia Lewis, said he had died "trying to protect others and his death was such a tragic waste".
His fiance, Debbie O'Neill, said she would never get over his loss.
"Phill was the kind of person who genuinely cared about the people he dealt with on a day-to-day basis.
"He had enormous compassion and empathy for people and a total belief in right and wrong," she said.
Area Commander for Mid Kent, Ch Supt Matthew Nix, added that Pc Pratt was "a much-loved and highly respected officer who died doing the job he loved".
"This year, as a tribute to Phillip, I will present the first Phillip Pratt Area Commander's Award in his memory.
"The award will recognise service to the community, something Phillip believed in deeply.
"Phillip joined the police because he wanted to make a difference and it is typical of his selflessness that he died protecting others.
"We are very proud of him," he said.
Related Internet Links
The BBC is not responsible for the content of external sites.