Kent car blast wife's 'courage and bravery'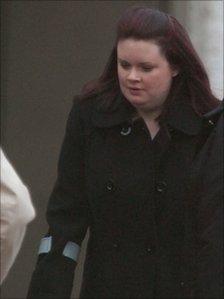 The wife of a former soldier who booby-trapped her car has been praised for her "extraordinary bravery".
Victoria Fabian, 33, suffered "horrendous injuries" when a grenade planted in her car by Nicholas Fabian exploded in Vigo, Kent, in March 2010.
Kent Police said it was difficult to understand why he would want to harm such a "likeable and charming lady".
Fabian, also 33, was told at Maidstone Crown Court he would serve a minimum of 16 years for her attempted murder.
He also received a 15-year sentence for the explosion charge, to run concurrently.
Alistair Dickson, senior prosecutor with the Crown Prosecution Service, said: "Victoria's bravery and courage is quite extraordinary.
"She suffered horrendous injuries to her legs and she wasn't expected to live."
The explosion blasted holes in Mrs Fabian's legs and she needed skin grafts to repair the damage.
He said she was in a lot of pain during her treatment because she had to do without some medication for fear it could harm her unborn child.
During the trial Mrs Fabian, a nurse at Tonbridge Cottage Hospital, described not being able to feel anything from the waist down following the blast and feeling she was losing a lot of blood.
Mr Dickson said her recovery was going well considering the injuries she had suffered.
He added: "She can now walk assisted with crutches but the emotional scars are going to take a very, very long time to heal if at all.
"She will never fully recover physically either.
"One has to remember she loved her husband. She was 24 weeks pregnant with his child and the horror of what he did to her is something which is going to be very difficult for her to overcome.
"Also one mustn't forget the effect on her children as well, they treated Nicholas Fabian as their father."
He also said Mrs Fabian turned down the chance to give evidence in court behind a screen despite the trauma she suffered at the hands of her husband.
Mr Dickson said: "She didn't want any of that. She wanted Nicholas Fabian to see her in court and to fully understand what effect he had had on her."
Related Internet Links
The BBC is not responsible for the content of external sites.