Visit Kent study finds tourism growing across county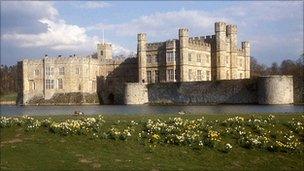 Tourism has become "an important growth sector" for Kent, research has shown.
Visit Kent, a not-for-profit organisation, commissioned the independent study, which was based on statistics gathered in 2009.
The research showed a 10% increase in economic impact, an 8% increase in visitors and a 7% rise in jobs created in the tourism sector since 2006.
Councillor Kevin Lynes said tourism was the only sector that allowed Kent to grow "without laying bricks".
Mr Lynes, Kent County Council's regeneration and economic development spokesman, said: "It [tourism] is clearly an important growth sector for Kent.
"It is the only sector that allows us to build growth without laying bricks, but by using our natural assets."
Sandra Matthews-Marsh, chief executive of Visit Kent, said the organisation worked to bring together local councils with 3,000 tourism, leisure and hospitality sites to market Kent in a way no individual business could do on its own.
She said: "Together we are punching far, far above our weight."
In 2009, Kent and Medway had 56.6 million visitors. They spent almost £2.6bn, a figure which was up by 9% on 2006.
A further £176.2m was spent in the county by visitors on their second homes and boats, and by friends and relatives entertaining guests - a 25% increase on 2006.
That year, Medway, Canterbury and Thanet topped the table for the number of domestic overnight visitors.
And overnight trips by overseas visitors rose by 3% on 2006. Canterbury and Ashford were the most popular places to stay.
Related Internet Links
The BBC is not responsible for the content of external sites.