Appeal over £120m regeneration scheme for Gravesend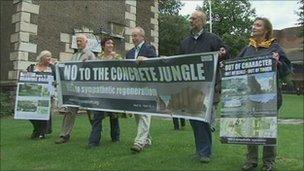 Campaigners opposed to a proposed £120m regeneration scheme in north Kent are holding a public meeting after the firm behind it appealed to the government.
The proposal for Gravesend's Heritage Quarter was rejected by councillors last year over concerns about its size.
The planning application by developer Edinburgh House includes provision for 400 flats, a hotel, restaurant and leisure facilities, shops and offices.
A public inquiry will now be held to consider its plans, possibly in June.
The government will then make its final decision on whether or not to grant planning permission for the development.
The scheme was rejected last September on the grounds it was too big and bulky, and not appropriate for the area.
Traders in the Heritage Quarter have expressed fears their trade will be badly hit if the redevelopment goes ahead.
Sue Couves, secretary of the campaign group Urban Gravesham, described the plan as "an oversized, out-of-scale development that is not fitting the heritage of Gravesend".
"We've got some fantastic historical buildings in the town - none of which will be enhanced by the building of any of this Edinburgh House development," she said.
Related Internet Links
The BBC is not responsible for the content of external sites.