Vigo blast victim Victoria Fabian 'feels no hate'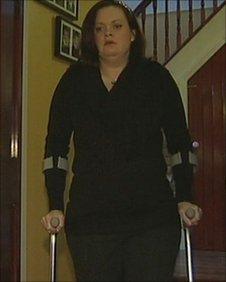 The wife of a former soldier who tried to blow her up with a grenade planted in her car has said she does not hate him for trying to kill her.
Victoria Fabian was seriously injured in the explosion last year in Vigo, near Gravesend in Kent.
But she said there was no point in hating her husband Nicholas because it would take up too much energy.
He was jailed for a minimum of 16 years on Friday after being found guilty of attempted murder.
Maidstone Crown Court was told detectives believe he tried to kill Mrs Fabian so he could start a new life with his mistress.
Mrs Fabian was pregnant at the time of the explosion and had her eight-year-old son, Charlie, in the car with her.
He managed to clamber out but she was too badly hurt to move.
"The next thing I remember is Nick running towards me - he was absolutely hysterical, screaming and calling my name," she told BBC South East.
"Then my legs were on fire, so he started putting the fire out on my legs.
"That's when I started to panic, thinking the car could go up. Then I screamed at him to get me out of the car.
"He pulled me out of the car and a neighbour helped take me to safety and the car exploded."
Mrs Fabian said hating her husband would only "eat me up inside".
"It's done, and I've just got to make the best of the situation and get on with it," she said.
Her unborn son Freddie was not hurt in the explosion and was delivered safely three months later.
"I felt I had such a strong bond with him because he had been through everything I had been through," she said.
"He is my little miracle."
Related Internet Links
The BBC is not responsible for the content of external sites.