Pfizer bosses questioned by MPs over Kent site closure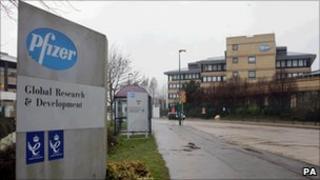 Bosses of the Pfizer drugs plant in Kent have been challenged by MPs about the decision to close the complex, which employs 2,400 people.
The managing director was among those answering questions at the Commons Science and Technology Select Committee.
Andrew Miller, Labour MP and chairman, wanted to know why and how the decision to close the plant was taken.
The company said it had nothing to do with the situation in the UK.
The US-based drugs company announced its decision to close its research and development facility at Sandwich, on 1 February.
'Prestigious site'
Pfizer said the majority of staff would be made redundant over the next two years.
However, it said it hoped to transfer several hundred positions to other sites or other companies doing work for Pfizer.
Richard Blackburn, the managing director of Pfizer UK, told MPs: "The drivers for this decision were global in nature and were related to our pressing need to change the way in which we conduct our R&D model.
"There was no aspect of government policy or operating environment in the UK that was relevant to this decision."
Speaking after the select committee meeting, Mr Miller said: "There are some contradictions that need answers.
"It's very clear that the company were making the decision during the latter part of last year. The chief executive spoke to the Prime Minister at the end of November.
"Either the Prime Minister was not up to his game or the company did not bother to tell him that they were about to close a prestigious site."