Head of Kent school challenges best school claim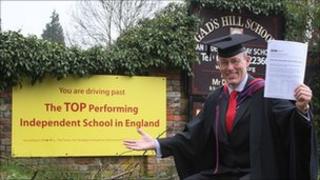 An independent school in Kent has been reported to the advertising watchdog by the head of a rival school for claiming it is the best in the country.
Ian Walker, the head of King's School in Rochester, has complained about Gad's Hill School in Higham to the Advertising Standards Authority (ASA).
Dr Walker said the reporting of school league tables was "a load of cobblers".
David Craggs, the head teacher of Gad's Hill, said he believed it was a case of "sour grapes".
A spokesman for Gad's Hill said it believed the rival school was unhappy that it had placed signs outside its grounds proclaiming it as the "top performing independent school in the country".
'Very ordinary'
Mr Craggs said: "I have to say that I am amazed by the reaction of King's. This sounds like a very bad case of sour grapes."
Dr Walker said the league tables were distorted because schools such as his offer International GCSEs (IGCSEs) rather than the conventional GCSEs, which are not recognised in the performance league tables.
He said: "How the government placed them so high in the country is beyond me.
"It can only be due to the fact that the whole way in which league tables are reported is a load of cobblers."