Sheppey head teachers crack down on term-time holidays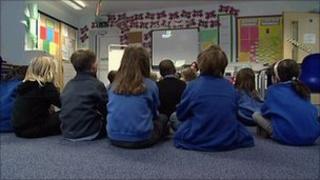 Nine primary school head teachers on the Isle of Sheppey in Kent have warned parents they could be fined if they take children on holiday during term.
Alan Bayford, chairman of the group of head teachers, said the move was to tackle low attendance on Sheppey.
He said absence for holidays would mostly now not be granted.
He added: "From this moment on, we're going to collectively adhere to the rules."
A system of holiday request forms has been withdrawn and families who want to take children out of school must now write to the head teacher and attend a meeting.
'Cheap holidays'
In cases of unauthorised absence, schools can instruct the educational welfare officer to issue a penalty notice leading to fines of £50 per child per adult - so a family with two children and two adults can be fined £200, Mr Bayford said.
Chris Berry, head of attendance at Kent County Council, said: "What the heads are clearly saying though is that certain circumstances are not considered to be reasonable.
"With the availability of cheap holidays, although I can really understand that is an attractive proposition, the heads are saying that school actually is more important."
He said guidance allowed head teachers to authorise school absence for family holidays if parents were service personnel or other employees who were prevented from taking holidays outside term.
This was only if there was minimal educational disruption, however.
Absence could also be authorised if families needed to spend time together during a crisis or to support each other, he added.