Pfizer staff from Sandwich site could move to the US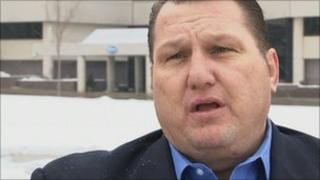 Employees threatened with redundancy at the Pfizer site in Kent are considering relocating to the United States, a regeneration company has said.
Ron Kitchens, of Southwest Michigan First, said he was trying to recruit researchers from the Sandwich plant.
He said he had spoken to up to 20 researchers since Pfizer announced its closure last month.
The company wants to attract investment to the Kalamazoo area of Michigan, where Pfizer closed a plant in 2007.
Mr Kitchens said: "If you're not talking to (staff) about how their future is in Sandwich, or in the region, then they're going to come to places like Kalamazoo.
"We're already talking to 15 or 20 researchers who are currently in Sandwich, who want to talk about going to work for one of our companies or bringing technology with them and starting a new company."
The research and development facility in Sandwich employs 2,400 people.
Pfizer has said most staff will be made redundant, but it hoped to transfer several hundred positions to other UK sites or partner organisations
The University of Kent has already expressed interest in using some of the Pfizer facilities.