Maidstone Rugby Club eye gouging appeal abandoned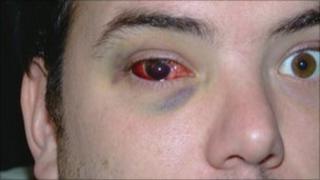 A Kent rugby club fined following a deliberate attack which left an opposing player blind in one eye has abandoned its appeal.
Maidstone RFC was fined £2,000 and deducted 50 points after a Rugby Football Union hearing in January.
The hearing found the club guilty of conduct prejudicial to the interests of the game.
Clarence Harding's right eye was gouged during a game between Gravesend Rugby Club and Maidstone on 17 January 2010.
In November, the Rugby Football Union (RFU) said it could not be determined which player was responsible for causing the injury in the match at Mote Park.
Judge Jeff Blackett, chief disciplinary officer, cleared Maidstone player Matt Iles of eye gouging at a previous hearing, but he also determined Mr Harding had been injured in a deliberate act.