Family of man attacked in Sittingbourne in fresh appeal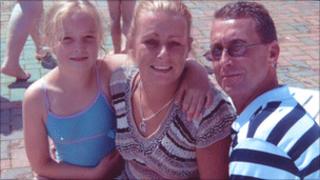 The family of a Kent man killed in an apparently motiveless attack have made a fresh appeal to find the person responsible.
Adrian Milner, 48, died after he was punched and hit his head on the pavement in the Murston area of Sittingbourne on 28 December.
The lorry driver was punched in the face by a man as he walked home with a friend near the Co-op in Church Road.
His brother Duncan said: "We just want justice... so he can rest in peace."
He added: "We want the man responsible for the attack to come forward, as we have not been able to move on from this, knowing that the offender is still out there and able to continue his life as if nothing has happened.
"Adrian's death has brought much sorrow and heartache to the whole family and his absence has left a big hole in our lives.
"We love him and miss him so much."
Mr Milner, known as Ada, grew up in Sittingbourne and had two sons from an earlier marriage.
He died in a London hospital 12 days after the attack on 9 January.
Kent Police have released CCTV footage of men they believe could be vital witnesses.
Det Insp Lee Whitehead said Mr Milner and his friend Michael Coomber had been for a drink in the New Inn and were walking home along Church Road when a third man punched Mr Milner in the face, in what was believed to have been an unprovoked attack.
"We continue to analyse CCTV footage of the evening, not just in Church Road but further afield, which is why we are releasing these new images in a bid to bring forward new key witnesses who could help us reveal the identity of the offender," he said.
The attacker is described as white, about 30 years old, of stocky build with brown shoulder-length hair.
He was wearing a dark jacket and carrying a white shopping bag. He may have been wearing a hat.
A 35-year-old man bailed in connection with the investigation has been released without charge. A 30-year-old Sittingbourne man remains on bail.