Canterbury to have Street Pastor teams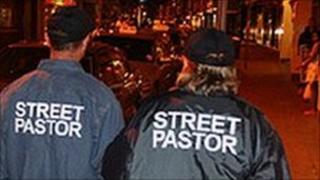 Binge drinkers and late night revellers will be targeted by teams of Street Pastors working on the streets of Canterbury for the first time.
The Christian volunteers, who already operate in other Kent towns, will do things from handing out bottles of water to dialling cabs for clubbers.
It is part of an initiative to tackle anti-social behaviour at weekends.
"Our primary objective is to care and befriend those who are on the streets," said spokesman Andrew Fitzgerald.
"Being Christians, we will engage in questions and discussions of faith if that arises but that is not our immediate intention or concern."
The Street Pastor scheme is run by the Ascension Trust, which organises similar groups across the UK.
Pastors receive training and wear uniform. In Canterbury, the group has the backing of Kent Police, Canterbury Community Safety Partnership and the city's churches.
Three teams of four pastors will be patrolling the streets on three Saturdays every month from 5 March.