Research firms 'in talks with Pfizer about Sandwich'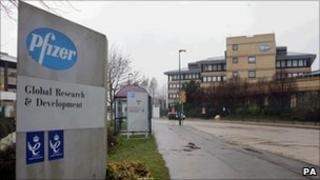 Drugs company Pfizer is in talks with research companies about salvaging jobs threatened by the closure of its Sandwich site, a report has revealed.
A task force set up after the announcement last month has published its first 30-day report to ministers outlining hopes to stimulate growth.
The report revealed Pfizer's confidential talks with research organisations about using the site.
It also called for the creation of an east Kent recovery and growth package.
Authors of the report said the development of high-speed rail links and a cut in journey times between Thanet and Dover would have a big impact on the potential of Sandwich.
And it also called on the government to designate the area as a research, innovation and technology zone, bringing tax and planning breaks.
'Flexible beast'
Pfizer announced the closure of the Sandwich site in February. The research and development facility employs 2,400 people.
BBC South East business correspondent Mark Norman said: "They want to set up this enterprise zone in east Kent, which we'll need more detail on because that could be a bit of a flexible beast as to exactly what that might entail.
"[The zone] would give them an advantage. It might be lower taxation, lower rates - that sort of thing."
The government set up the task force, led by Kent County Council leader Paul Carter, to find an "ambitious solution" to minimise the impact of the plant's closure on the local area.
He said: "We will leave no stone unturned in stimulating new business at the Pfizer site and growing wider employment opportunities to help staff, contractors and the community."
The University of Kent has already expressed interest in using some of the Pfizer facilities.