Medway blood test clinics triple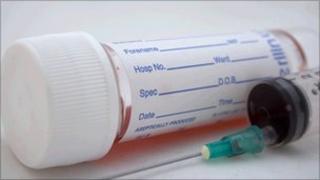 Concerns about the availability of blood-testing services in Medway have led the NHS to triple the number of clinics.
NHS Medway said patients raised concerns after hearing that some clinics in Strood and Rochester were due to close at the end of March.
Acting chief executive Helen Buckingham said the NHS had worked with GPs to organise more clinics.
She said the number of clinics had increased from nine to 32.
'Radical opening-up'
She also said the availability of the service had increased from 115 hours to about 400 hours a week.
"Thousands of people in Medway need blood tests regularly," she said.
"This new service provides a wide range of drop-in clinics across Medway as well as a range of clinics where you can make an appointment which many people find more convenient than queuing."
She said a further 11 surgeries and branch surgeries could also take blood samples for their own patients.
The new clinics will begin on 1 April.
Ms Buckingham said previously about 20 GP practices offered a blood-taking service but none routinely offered the service to patients registered with other practices.
She said the new drop-in clinics were a "radical opening up of the service".