Kent Police's lack of 2012 Olympics funding 'unfair'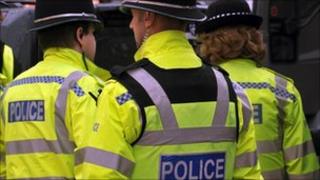 Kent Police Authority has criticised a decision not to give the force extra funding when London hosts the Olympic Games next year.
Organisers have said Kent, which neighbours London, does not qualify for a share of the £500m security budget because it is not hosting any events.
Ann Barnes, who chairs Kent Police Authority, said she was "disappointed, frustrated and confused."
In a statement, the Home Office said its security plans were "risk-based."
Ms Barnes said she would continue to lobby the government for extra funding.
'Special case'
She said: "There's a £500m security budget and not a single penny coming to Kent despite the fact that because of the geography we have a huge policing operation here.
"We don't have events but we have dozens of training camps, we're the gateway to Europe, and we'll have hundreds of thousands of people coming through the ports and the Channel Tunnel."
Jeremy Kite, the leader of Conservative-controlled Dartford Borough Council, said more than 25,000 people an hour were expected to pass through Ebbsfleet International Station.
He said: "Quite frankly it's a major policing problem. It seems a bit unfair that the taxpayers of Kent have got to pick up the cost.
"I don't think the qualification of having an event here is the best one to use. I think there is a big justification for us being a special case."
In a statement, the Home Office said it was confident police forces had the resources in place to deliver a safe and secure Games.