Canterbury Roman burial ground uncovered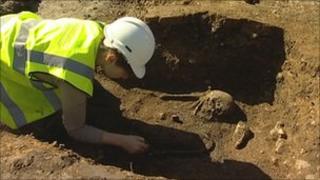 A Roman burial ground has been discovered by archaeologists working on the site of a former garage in Kent.
About 150 graves have been found on the site in St Dunstan's Street, Canterbury, which formed an important suburb of the Roman and medieval city.
The Roman road from Dover to London followed the line of St Dunstan's Street, and Roman finds date from as early as the first century AD.
Burials took place from about AD 290 into the late fourth century AD.
Canterbury Archaeological Trust has until Sunday to excavate the Hallett's Garage site, which will then be developed for housing.
Clay quarries
Director Paul Bennett said the graves were of men, women, young people and children.
"We have been here for nearly 16 weeks and we are trying to rush and grab the last few features before the developers actually start," he said.
One unusual burial is of a man about 6ft 5in tall, who is thought to have been a soldier or merchant who travelled to Canterbury from northern Europe or Africa.
Other discoveries on the site include clay quarries and rubbish pits.
The remains of a number of medieval buildings have been found, including clay floors, tile hearths and masonry-lined wells.
The site also has the remains of more modern properties, including a Jewish synagogue built in 1762.
Archaeologist Damien Boden said the challenge of working on such a dig was working out how every find fitted the overall picture.
"It is making sure you have got it right," he said.
"At the end of the site, when you pack up, you know that you have dug it properly and you have got all the information you can and you couldn't do any more."