New post office opens in Kent village church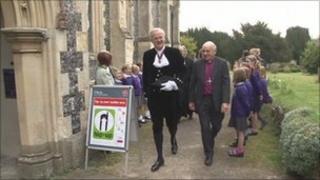 Residents of a Kent village will now have more reasons to go to their local church after a post office opened in the building.
The new post office at Goodnestone Holy Cross Church was blessed by the Bishop of Dover, the Right Reverend Trevor Willmott.
Reverend Nigel Hale has been working to get the project off the ground.
"Local people were bereft when the post office and village shop closed just before Christmas," he said.
"The church community immediately identified that Holy Cross church could provide a venue for the post office and we have worked quickly to make this happen.
"By opening up Holy Cross for alternative uses, we are placing the church at the centre of the community and providing a benefit to a large number of local people," Mr Hale said.
The post office will be situated in the church and will open on Monday and Wednesday mornings.
There are plans for coffee mornings and a mini farmers' market to operate at the same time.
Holy Cross Church will continue as a place of worship, with a normal schedule of weekly services.