Margate's Turner Contemporary art gallery set to open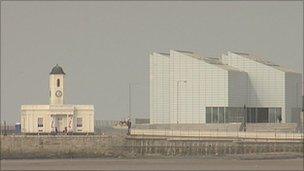 It cost £17.5m and took more than 20 years to create a contemporary art gallery celebrating the painter JMW Turner's links with Margate.
Sceptics had to be talked round and the first design, for an offshore building, was scrapped when costs soared.
Now the glass-clad Turner Contemporary, presiding over Margate's sandy bay, is finished and ready to open to the public on Saturday.
Turner, the great seascape and landscape painter, started school in Margate in 1786 when he was 11. He found himself smitten by the sea, the sky and the quality of the light.
He returned many times and later fell in love with his seaside landlady Mrs Booth.
Her double-fronted home is long gone but the gallery on the same site will keep the memory of Turner's connection with the north Kent coast alive.
"We have a very direct link with Turner through the location," said Victoria Pomery, director of Turner Contemporary.
"The views from the gallery are the same views that Turner would have seen from his lodging house."
The architect, David Chipperfield, has designed many acclaimed buildings round the world but he said he had read on an internet blog that the Turner Contemporary "looks like a shed".
"If a shed is a large, multi-functional building then I think this is an elegant shed," he said.
Sir David said he tried not to go into any project with a pre-determined idea and had begun this one with a "strange site".
"We are not really in the town and are not quite in the sea so it is quite a tough site," he said.
"We are sitting a reasonable way back from the harbour wall but this building still gets hit by overspill."
Turner said the skies over Thanet were the "loveliest in all Europe" and Margate's special light came from its position facing north to the sea.
"It is not a condition that happens that much in England," said Sir David.
"The least aggressive light is the north light and I think that is why Turner liked it.
"This combination of conditions is what brought him here and it is something we have tried to take of advantage of."
The galleries look out to sea but the entrance to the building faces the town, which Sir David hopes will encourage local people to use it even if they are not art lovers.
"The building makes a courtyard and I am hoping that will become a sort of piazza that draws people in and the lobby will become a public room.
"If you are in Margate it will become natural just to come in whether you go upstairs and look at the art or not."
The idea for a cultural centre linked to Turner originally came from Margate resident John Crofts, former chairman of Margate Civic Society, during the 1980s.
Funding came from sources including Kent County Council, Arts Council England and the National Lottery.
Norwegian architects Snohetta and Spence, appointed in 2001, came up with a gallery to be built in the sea but the project was scrapped in 2006 amid fears the cost might soar as high as £50m.
Some 600 local people packed a public meeting that year to hear the announcement that a less ambitious scheme would go ahead.
"Initially people were asking, 'Why is an art gallery going to be relevant in our lives'," said Ms Pomery.
"We have done a huge amount of learning and education with members of the community and I think those people have come round.
"I went to the public meeting, where people were saying, 'When are we going to get our gallery', so it is a real change."
The gallery will be opened by artist Tracey Emin, who grew up in Margate, and musician Jools Holland, who lives near Rochester.
Admission will be free and the opening exhibition includes Turner's painting, The Eruption of the Souffrier Mountains, and work by six contemporary artists.
The first major show of Turner's works, Turner and the Elements, begins next January and features more than 70 watercolours and a selection of oil paintings.
"Not everyone is going to like every show that we put on, but that is not the point - it is about being open to something new and different," said Ms Pomery.
The new gallery opens with a weight of expectation that it will lead the regeneration of Margate, which has many disused and boarded-up buildings.
The 20 acre site of the famous Dreamland fairground is closed and there are plans to restore it as an amusement park for vintage rides.
Thanet council has pledged to bring empty shops back into use and spruce up the town's appearance.
Sir David said he was convinced Turner Contemporary would play an important part in Margate's rebirth.
"All I have said, in the past, is that you should build a cultural building because you want a cultural building not because you want to regenerate the city," he said.
Related Internet Links
The BBC is not responsible for the content of external sites.