Why are some children staying away from Thanet beaches?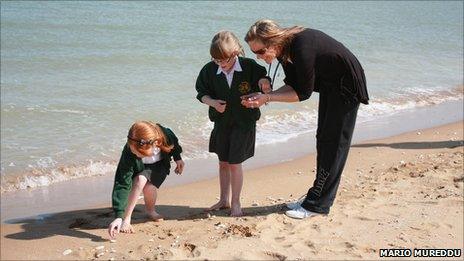 For many, the beaches of Kent are one of the county's biggest attractions.
Yet, it is claimed that there are some families who, despite living within a few hundred yards of the seafront, do not spend any time at the shore.
Council officials say that when they interviewed children from Ramsgate, some said they had never ventured on to the beach.
They say this response is often repeated when they visit schools across Thanet - which also includes resorts such as Margate and Broadstairs.
To tackle this issue, the local authority has been awarded £100,000 of lottery cash to pay for a project aimed at encouraging more people to hit the beach.
Suzie Hooper, from the Footprints in the Sands scheme, said: "Because we have areas of deprivation, we find that some of these people are not accessing the coastline."
According to the government's 2007 Indices of Deprivation, Thanet is in the bottom fifth of most deprived districts in England, with lower than average life expectancy for men and women, and its children experiencing higher levels of poverty.
The index also suggests fewer children than average take part in physical activity - including visits to the beach.
While teaching children on the beach about safety and the environment, Ms Hopper said: "Sometimes it's about the confidence about coming down to the beach, and we can show them [parents] what they can do with their children for free," she said.
"Sometimes they feel they have to be buying things on the beach, but we can show them different things to do without a cost."
Denise Davies' class from St Peter's Junior School in Broadstairs uses the beach to study science and nature, and they do maths classes on the beach too.
One pupil, nine-year-old Callum said proudly: "I wrote a giant sum on the sand for my brother and my sister and my mum to work out. They couldn't work it out."
Ms Davies said: "For many children these are one of very few visits. I think some of our families are working and find it difficult to to find time to come down."
Hannah, aged eight, who is also enjoying learning on the beach likes to go to the coast with her family. "I don't come that often, because most of the time we are doing something else, or are at the park or something. We come most often in the summer."
'Get our priorities right'
Jacquie Brazil brings her son Ben, aged six, to the beach with the scheme. She said: "I'm an older mum, so I'm quite isolated, and I've been made to feel very welcome.
"It's not just about teaching children to use a bucket and spades it's about cockles and mussels and seaweed. It's what I couldn't teach him."
She said that often parents can lack motivation to take their children to the beach. "When you have people to do things with, it makes it more fun, and it's also about me having someone to talk to too.
"We need to get our priorities right, and our children do need the fresh air. We need guidance and support."
Betty Clare, from Broadstairs, and Pam Vass from Cliftonville, are on the beach with their grandchildren as part of the scheme.
Ms Clare said: "It's educational as well as fun, and it takes them away from the computer for an hour or two."
Ms Vass said she wasn't surprised some children had never visited the beach.
"It's easier to put them in front of the telly or the computer, rather than make the effort to bring them out themselves. Nowadays a lot of parents can't be bothered."
Activities are planned for every day of the Easter school holidays in bays around Thanet.
Related Internet Links
The BBC is not responsible for the content of external sites.