Surrogate mother from Maidstone carries cousin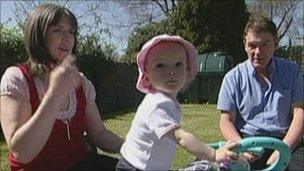 A woman from Kent agreed to act as a surrogate mother for her aunt and uncle.
Sandra Barlow, of Ulcombe near Maidstone, had feared she would not become a mother after trying unsuccessfully for 17 years
But her niece, Emma Vaughan, already a mother of three, volunteered to act as a surrogate mother.
Ms Barlow said: "We can't thank her enough. It's absolutely incredible and you can't put it into words."
She had spent more than £40,000 on seven unsuccessful rounds of IVF treatment before deciding to approach her niece.
She said: "I know enough of Emma to know if she didn't want to do it she would have said no straight away so I didn't feel there was any pressure."
Ms Vaughan, who is Maia's biological mother and also her cousin, said: "I was a bit shocked but I instantly said yes because I've always said if anyone ever asked me I would do it.
"As it was my auntie's family, I decided to just do it.
"With Maia I was just carrying, just being like an oven really, just making sure she was safe."
The Barlows said their life had changed forever since Maia was born 13 months ago.
Ms Barlow said: "She was handed straight to me and it was just amazing. There's never a second that I don't look at Maia as my daughter."
Related Internet Links
The BBC is not responsible for the content of external sites.