Wills and Kate looking for new home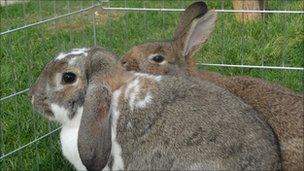 Two unwanted rabbits have become so besotted with each other that staff at a Kent animal rescue centre have named them Wills and Kate.
When Wills, a lop-eared rabbit met Kate, a cross breed Brindle rabbit, it was "love at first sight" said Foal Farm Animal Rescue in Biggin Hill.
The pair arrived separately but are now inseparable said the centre.
The charity said they must be rehomed together as all pet rabbits are much happier living in pairs or groups.
Kate was brought to the centre last year, having been abandoned as part of a litter left at a nearby veterinary practice, and Wills is an unwanted pet.
Foal Farm Chief Executive, Kim Puttock, said: "We are looking for a very special new home for Kate and Wills with an experienced rabbit owner.
"They are absolutely gorgeous and, like all rabbits, deserve to be treated royally."
Related Internet Links
The BBC is not responsible for the content of external sites.