World War II steam tug is preserved in Chatham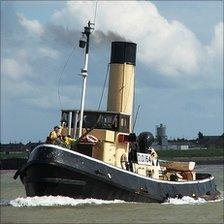 Work has begun to preserve one of the few surviving prefabricated tugs built towards the end of World War II.
Steam tug TID 164, which was built in 1945, is moored at Chatham's Historic Dockyard and is one of four tugs out of 182 to remain in its original form.
The tugs were the first all-welded ships to be built in the UK and the first prefabricated ships constructed.
Between 1943 and 1946 the government ordered the tugs to be built as cheap replacements for those lost in the war.
The order from the Ministry of War Transport was: "Design, organise and start work immediately toward achieving, in the shortest possible time, the delivery of one tug per week, using in the process, little or no shipyard labour."
Engineering works around the country were used to prefabricate the sections and transport them by road to the quay side where they were welded together and launched.
Many women welders were involved in the construction of the TID tugs but at end of the war they were sacked after pressure from the trade unions.
The tugs were used during the D-Day landings and by 1945 they were in use all around the world in navy bases.
Steam tug TID 164 missed active duty because it was still being built as the war ended.
Friends of TID 164 are a team of volunteers who have formed to help preserve the steam tug as it is one of the very few tugs to retain most of its original equipment and fittings.
The tug is listed on the National Historic Fleet Register and it requires year-round attention to keep it seaworthy.
Related Internet Links
The BBC is not responsible for the content of external sites.