Pete Tong celebrates 20 years on BBC Radio 1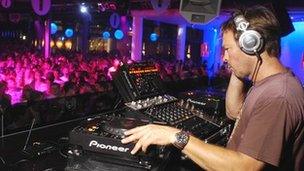 DJ Pete Tong has spent 20 years showcasing the latest dance music on his BBC Radio 1 show.
But the international club DJ still recalls his early years driving his mobile disco around his native Kent.
Born in Hartley and educated in Rochester, the broadcaster established his career in music in local venues across the county.
"I had a transit van, running around Dartford and Gravesend with a few speakers," he said.
He also presented on BBC Radio Medway - now BBC Radio Kent - and Invicta FM.
Mr Tong's first paid DJ gig was at a wedding and for about two years he had the mobile disco business.
He said: "I worked out pretty quickly I wanted to play my own music.
"The mobile disco was called OHMS, as in On Her Majesty's Service, but rapidly we changed it to Oh Hear My Sounds."
Pete Tong first appeared on BBC Radio 1 as a teenager.
He said: "I did a little bit of pirate radio and then when I was working at a music magazine, I got a call from Radio 1 to talk about dance music for 15 minutes with Peter Powell when I was 18 or 19."
As well as presenting a specialist music radio programme Mr Tong regularly DJs in nightclubs around the world.
Nick Stevenson, Associate Editor at Mixmag said: "Pete Tong has been the major catalyst in making club culture and dance music as popular as it is today, not just in the UK but around the world.
"In his 20 years at Radio 1 he has nurtured new artists, presented new sounds and introduced millions to the power of dance music."
Pete Tong's name has even been adopted into Cockney rhyming slang for the word wrong. "It's all gone Pete Tong" has become a common expression meaning "it's all gone wrong".
Related Internet Links
The BBC is not responsible for the content of external sites.