Battersea call to cut 'status dog' numbers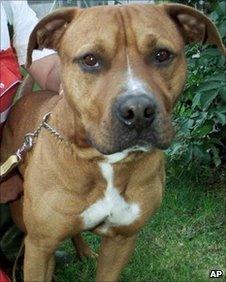 Animal welfare workers are calling for tougher controls on dog ownership to reduce the number of "status dogs" being abandoned in Kent.
In Thanet, it is estimated that 90% of dogs rounded up by council wardens are Staffordshire bull terrier-types, while in Medway it is more than one third.
"Registration and microchipping are the way forward," said Battersea Dogs Home director Laura Jenkins.
"Also, getting your dog from the right sources is absolutely crucial."
Figures obtained by BBC Radio Kent revealed that of 882 dogs picked up in 2010 by wardens in Medway, 350 were Staffie-type dogs.
Thanet Borough Council, which covers Margate, Ramsgate and Broadstairs, did not have exact figures, but said they were 90% of those it handled.
In Gravesham, of 208 dogs collected last year 71 were Staffie-types.
Tim Oxley, animal control officer for Swale Borough Council, said the figure there was about 40% and increasing.
"It is difficult to put your finger on a reason," he said.
"We have got the Bill Sykes and Bullseye syndrome of people walking around with this hard-looking dog, which I believe is false.
"A Staffie is actually a really friendly person-loving dog but they look the business."
He said he believed people acquired the dogs, then dumped them when they realised they were expensive to look after.
"We pick up stray dogs all the time and the majority are returned to the owner.
"But it tends to be the bulldog-type that are not claimed."
The Brands Hatch branch of Battersea Dogs Home has several Staffordshire bull terrier-type animals, some of them transferred from its London base and others rounded up in Kent.
One was abandoned by a Kent family living with children in a 7th floor flat who did not have time to walk it.
"We have seen the bull breed type becoming increasingly popular as a status breed, which sets off the owner's image," said Ms Jenkins.
"But people tend to have it for the wrong reasons.
"We do a lot of work with dogs being passed on through social networks. You really don't want to go to the internet or a bloke in the pub."
Related Internet Links
The BBC is not responsible for the content of external sites.