Edenbridge runner finishes sixth in North Pole Marathon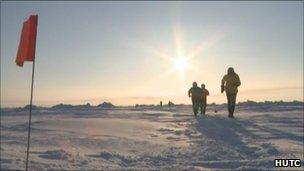 An Edenbridge runner has finished joint sixth in one of the world's toughest races, the North Pole Marathon.
David Brogan, 41, joined 26 participants from 12 countries in the challenge on Friday night, in the North Pole's 24-hour daylight.
Mr Brogan endured temperatures of -32C during the 26.2 mile (42.2km) race known as the world's coolest marathon.
Conditions underfoot became more difficult as the race progressed.
All runners successfully completed the course and the marathon was won by Hungarian competitor Istvan Toth in a time of 4:54:03.
Mr Brogan, who has previously completed a number of marathons, ultra marathons and triathlons, is used to dealing with extreme temperatures.
He ran in the six-day 151 mile (243km) Marathon des Sables in the Sahara Desert in Morocco a few years ago.
After finishing the North Pole Marathon in 5:34:35 he said: "What a challenge - the cold, the snow and the ice - absolutely brilliant.
"The worst bit was the last two miles through the soft, soft snow and just keeping going mentally with the cold and the wind in your face, with your face freezing.
"But as long as you put that out of your mind you got through it. Great fun."
The race took place on the drifting Russian ice base at Barneo at the geographic North Pole.
Due to start a day earlier, the marathon was delayed when a one metre (3.2ft) wide crevasse opened up on the runway, making it unsafe for the competitors' plane to land.
Race director Richard Donavan said: "The North Pole is totally unique because it's on water effectively.
"We are running on the Arctic ocean and it's a chance for everybody to stand at the North Pole."
Related Internet Links
The BBC is not responsible for the content of external sites.