Bell to returns to Medway to wait for next HMS Chatham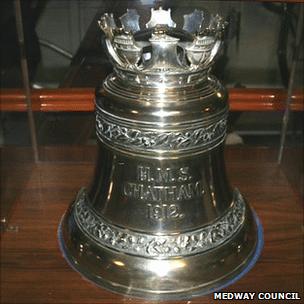 The bell from the retired frigate HMS Chatham is to return to Medway.
The ship's commanding officer, Cdr Simon Huntington and crew members will present the bell to the Mayor of Medway on Thursday.
The 18in (45cm) high bronze bell will be kept at St George's Centre in Chatham until another HMS Chatham ship is commissioned.
It was originally given to the seventh Royal Navy ship to bear the name HMS Chatham, on 1 December 1912.
The mayor said: "It is a great honour to have the bell returned to Medway and is a touching tribute to the ship's long history and connection with Medway.
"Chatham's connection with the Royal Navy spans hundreds of years and I hope the bell will soon find its way onto the next HMS Chatham where this fine tradition can continue."
HMS Chatham served the Royal Navy for 20 years, employed all over world in protection, anti-piracy and humanitarian operations as well as being used in times of conflict.
The ship was officially decommissioned in February 2011, when the ship's company and the Band of the Royal Marines took part in the Freedom of the Borough Parade through Chatham.
Related Internet Links
The BBC is not responsible for the content of external sites.