Upright walking gorilla Ambam turns 21 in Kent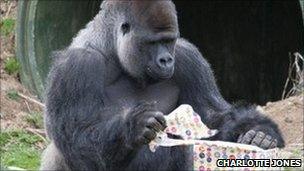 A gorilla who shot to fame when footage showed him walking upright like a human has celebrated his 21st birthday.
Keepers at Port Lympne Wild Animal Park, near Hythe, marked the occasion by giving Ambam and his group some presents filled with food.
An 18-second clip of the male Silverback walking on his hind legs has been watched on YouTube more than five million times since the end of January.
Staff believe he uses it as a height advantage when looking for food.
Keeper Phil Ridges said: "We have had a lot of speculation that it is a man in a gorilla suit or that he has been trained to do this, but Ambam has not been trained in any way. It is just something he chooses and is able to do."
Ambam, weighing 34 stone (220kg), is part of a bachelor group of critically-endangered Western Lowland gorillas.
The footage of him was filmed by animal researcher Johanna Watson while she was working for a project on great ape locomotion.
Related Internet Links
The BBC is not responsible for the content of external sites.