Maidstone hit-and-run crash biker appeals for witnesses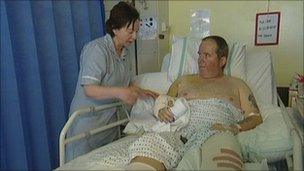 A motorcyclist facing months in hospital after he was seriously injured in a hit-and-run collision has appealed for witnesses to come forward.
Julian Allerhead suffered a broken collarbone, leg and arm when his motorbike was hit by a van that failed to stop in Maidstone 10 days ago.
He was heading towards Chatham when a silver van cut across him, hitting his bike and causing it to crash.
"I really count myself very, very lucky," Mr Allerhead said.
He is being treated in Maidstone Hospital, where he is facing a year of operations.
Recalling the moment when he was injured, he said: "I was just sprawled out on the floor.
"I could feel excruciating pain... and I just lay there looking up at the sky not knowing if I was alive or dead."
Mr Allerhead said he could not understand how the driver of the Ford Transit van could live with what had happened.
"Where's his compassion?", he continued.
"I could've been dead, and if he wants to keep that on his conscience, that's fine."
The collision happened on the A229 on 4 April at about 1645 BST.
Kent Police said the road would have been very busy at that time, and they have urged any witnesses to contact them.
Related Internet Links
The BBC is not responsible for the content of external sites.