Kent cancer woman's sons not yet told of her death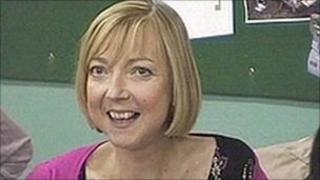 The twin sons of a woman who died from cancer after winning her battle to get a life-prolonging drug have yet to hear of her death, their father has said.
Nikki Phelps, 37, of Luddesdown, Kent, died last May from glandular cancer.
Her husband Bill said their three-year-old boys had told their nursery school teachers their mother was in hospital.
"That's something that I'm not encouraging them to think, but I'm not trying to change their minds at the moment," he said.
Mr Phelps said he was due to see a grief counsellor next month when the subject of how to tell the boys of their mother's death would be discussed.
"But for the time being they're OK with the situation," he said.
'Beautiful young boys'
Mrs Phelps, a former teacher, had been suffering from a rare form of glandular cancer caused by an inherited genetic fault.
She won an appeal on 28 April 2010 against a decision by NHS West Kent not to pay for the drug Sunitinib, but died on 11 May.
Mr Phelps said it had since been discovered that one of their sons had inherited the faulty gene which caused the cancer.
He said it meant that he was predisposed to the same illness but it was not guaranteed that he would develop it.
He said endocrine specialists felt that his son's life expectancy would only be marginally less than someone who did not have the faulty gene.
Mr Phelps said he did not want his sons treated differently, and only he and his brother knew which one was affected.
"They are two beautiful young boys who have very different personalities and should be allowed to grow up clear of any threat of this illness until it becomes a genuine threat, which it might not."