Scheme to 'find and fix' potholes on Kent's roads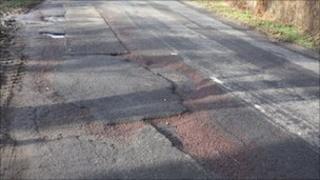 A campaign has begun to find and fix potholes across Kent.
Specialist road surfacing contractors are finding and repairing potholes on Kent's minor roads.
Kent County Council (KCC) received £2.1m of government funding to tackle the damage caused by this winter's severe weather.
Faults on A and B roads will be repaired by KCC's main contractor. Medway Council is responsible for all adopted roads in the Medway area.
John Burr, KCC's director of highways said: "This campaign is aimed at fixing all the faults in our minor road network, which makes up about 70% of our 5,000 miles of roads.
"Five of the six contractors working for us are Kent-based, so this means that we are also able to help support local companies during these difficult times."