Stone church six bells ring for first time in 373 years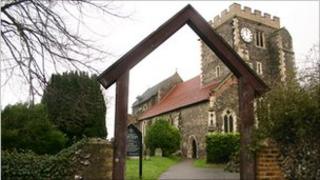 A peal of six bells will ring out from a Kent church for the first time in nearly 400 years this Easter.
On 14 January 1638, St Mary the Virgin Church in Stone, near Dartford, was struck by lightning and a fire destroyed its steeple and five bells.
Since then there have only been two bells in the tower of the 13th Century church.
The six new bronze bells will be rung at St Mary's for its Easter service from 1000 BST on Sunday.
Just over two years ago the Parochial Church Council (PCC) set up a project to buy and install a light ring of six bells, refurbish the tower to accommodate them and to restore the church clock.
With support from the community and local businesses, the PCC secured more than £100,000 funding towards the project.
The next step for the group was to find the right bells for St Mary's.
For 20 years six bells with an interesting past had been in storage at the Whitechapel Bell Foundry in London waiting for a suitable church.
The bells were recast from a peal which Elizabeth I is said to have blessed after her release from the Tower of London.
The original bells were first hung in a church within earshot of the Tower of London when Elizabeth, then a princess, was imprisoned there in 1555 by her older half-sister Mary, who was on the throne.
On her release, Elizabeth is believed to have given thanks to God at this church and provided its silken bell ropes.
Bell hangers from the Whitechapel Bell Foundry have now restored, retuned and installed those bells at St Mary's church.
Neil Thomas, from the foundry, said: "There was a small crack in the crown of the tenor and it was decided to replace that, so the biggest bell is actually brand new."
'Sounding good'
The church is sometimes dubbed "Little Westminster" as it was constructed by the same stonemasons as Westminster Abbey.
A new bell frame has been constructed at the top of the tower of St Mary's to support the heavy bronze bells.
Peter Scott, from Whitechapel Bell Foundry, listened to a test ringing of the new bells by a group of ringers from across Kent.
He said: "It was sounding very good, the tower isn't moving, the floor feels fairly secure too. I'm pleased."
After their first official ringing on Easter Sunday, there will be another first for the bells on 29 April.
To mark the Royal Wedding, they will sound their first quarter peal, 45 minutes of sustained ringing.
The first wedding at St Mary the Virgin to be accompanied by the new bells will take place the next day.
On 2 May, the May Day Bank Holiday, the bell tower will be open to visitors between 1000 BST and 1600 BST.