Kent officer is top female handler at police dog trials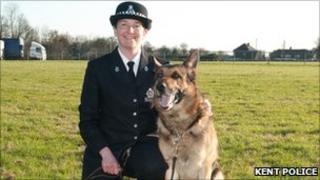 A Kent officer has been named as the top female police dog handler in the UK at the National Police Dog Trials.
Pc Samantha Appleby and her four-year-old German shepherd, Victor, competed at the event in Suffolk at the weekend.
The four-day competition put the police handlers and their dogs through their paces in a range of exercises.
Pc Appleby said: "I was thrilled to represent Kent Police in the nationals and it's an honour to be the UK's top female dog handler."
"Victor is a general purpose dog and like the others, specialises in searching for people and property as well as tracking, chasing and detaining offenders."
At the police dog trials, the dogs and their handlers were put through exercises which tested a wide range of abilities including tracking, searching, stand off, weapon attack, obedience and crowd control.
"He did really well and I'm proud of what we've achieved," Pc Appleby said.