WWII plaque stolen from memorial near Dover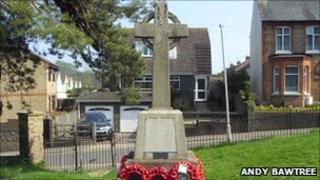 A plaque commemorating the lives of 15 men who died during World War II has been stolen from a Kent war memorial.
The brass plaque was engraved with the names of the dead men, who were from River, near Dover.
Police believe it was taken from the memorial, located within the grounds of the Parish Church of St Peter and St Paul, by scrap metal thieves.
The Reverend Andy Bawtree said the thieves had no regard for what the plaque symbolised.
He noticed the plaque was missing last Tuesday, although three other plaques on the war memorial had not been touched.
"This isn't like lead from a church roof... this symbolises the love and the sacrifice that others have given and this is the ultimate sacrifice in giving their lives," he said.