Dymchurch new sea wall houses community time capsule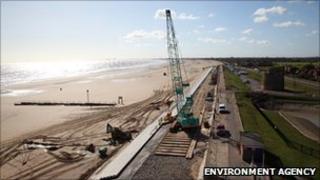 A time capsule filled with contributions from local people is being placed in the new sea wall at Dymchurch.
An Environment Agency project to install massive pre-cast concrete sea defences to protect the village is due to be completed in July.
The agency invited the local community to gather items for a time capsule to be sealed in a pillar of the sea wall.
The capsule will remain within the sea wall for 100 years until July 2111.
Dymchurch and District Heritage group and Dymchurch Parish Council co-ordinated the items to be encapsulated.
The capsule, which is 30cm (12in) square and 20cm (8in) deep, contains 61 items and 150 postcards with messages from local people and school children.
Some of the items include memorabilia from the parish council and local churches, a mobile phone, coins, maps and a menu from the local Chinese takeaway.
Colin Walker from the Heritage Group said: "It's been great for so many people to be involved and we can give an insight into life in Dymchurch today to the people of the future."
The new sea defences which will provide protection for nearly 2,500 homes in Dymchurch from flooding will be officially installed on 9 July 2011.