Linkhill crash family join road campaign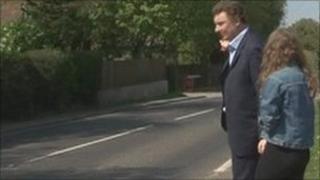 A family involved in a car crash described as "carnage" by witnesses have joined a campaign calling for traffic calming measures.
Amanda Maidment received two broken legs in the crash on the A268 at Linkhill, near Cranbrook, Kent and her two daughters were cut and bruised.
Her husband Robert Dunnett said: "This accident was the 27th in seven years, so I think now is the time for action."
Kent County Council (KCC) said it was aware of residents' concerns.
Ms Maidment was driving one of the two cars involved in the head-on collision on Friday evening.
She was flown to Brighton by air ambulance and admitted to intensive care. Her daughters were treated in hospital in Tunbridge Wells.
Mr Dunnett said the engines of both cars caught fire and Michael Jacques, who lives near the scene, and witness Wayne Thistleton put out the blaze with a fire extinguisher.
'Countless accidents'
Mr Jacques has described the crash as "absolute carnage" and said it was very distressing.
Linkhill Road Group has been campaigning for road safety improvements and a 40mph speed limit at the spot for years.
It claims countless accidents, some fatal, have occurred over 60 years.
"Through this awful event my family has become involved," said Mr Dunnett, who has pledged to support the Linkhill Road Group.
"There is no way I cannot support Mike [Jaques] and the group because of the huge debt I and my family owe him particularly," he said.
"The police were saying that both Mike and Wayne showed extraordinary bravery at great personal risk to themselves.
"My wife is now out of intensive care and on a general ward but she is in a lot of pain and my children are very distressed at seeing their mother in this state."
KCC said it was well aware of residents' concerns but it was unable to comment further until the police investigation into the accident had been completed.