Margate's lifeboat returns home as gallery opens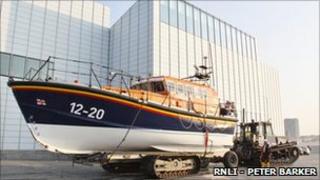 A Kent lifeboat station has returned to its former home after being temporarily moved during the construction of the new Turner Contemporary art gallery.
For the last eight months, Margate's inshore lifeboat has operated out of a temporary boathouse on the main sands.
It had to move from its site next to the gallery when work on a new road made the area inaccessible.
The RNLI said it was now exploring the feasibility of building a permanent lifeboat station on the main sands.
Paul Hodson, Margate lifeboat operations manager, said: "While the temporary facilities were understandably basic, the important thing was that we were able to maintain business as usual, with our response times considerably improving while operating directly from the beach.
"The area around the boathouse has now been transformed, and we look forward to sharing the opportunities that will hopefully follow with the opening of the gallery."
The Turner Contemporary opened to the public last weekend.