Tunbridge Wells shared space idea for high street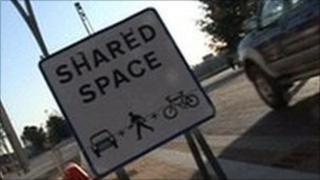 A controversial "shared space" road scheme could be adopted in Tunbridge Wells if an idea put forward by the council's leader is taken up.
Conservative Bob Attwood said he was "very excited" about idea of the Kent town following Ashford to give equal priority to drivers and pedestrians.
He said it was a "personal idea" to get people talking about the town centre.
The Lib Dems said it could work but Labour said the council had procrastinated over the town centre.
Ashford, 57 miles (92 km) from Tunbridge Wells, was one of the first towns in the UK to introduce shared space in 2008.
The project involves removing road signs, traffic lights and zebra crossings and reducing the speed limit to 20mph.
Groups representing people with visual impairments were concerned about road safety and Top Gear presenter Clarkson predicted "traffic carnage".
'Bring speed down'
But designer of the scheme, Ben Hamilton-Baillie, said he was pleased with the way it had worked.
"Journey times in Ashford have improved since the scheme was introduced," he said.
"And for people who are blind or partially sighted, if we can bring the speed of traffic down that overrides every other safety factor."
Mr Attwood said his idea for the High Street had not been adopted by the council or formally discussed.
But he said he wanted to consider ways to encourage people to move between different parts of the town.
'Ludicrous and inept'
The council's Liberal Democrat leader Dave Neve said the scheme would have to be in the right location.
"It may not work in the High Street because of the high kerb on one side," he said.
Labour spokesman Ian Carvell said: "We think the Conservative council are correct to look at interesting options, however we believe that they have procrastinated in all aspects of economic development of the borough."
UKIP branch chairman Victor Webb said: "This is another ludicrous and inept idea emanating from the current crop of councillors.
"The cost of removing the pavements and levelling to the road would be horrendous."
Green Party spokesman Rick Leslie said: "The shared space idea is worth looking into, although there is a lot more research needed.
"If we are going to introduce this to the High Street we need to make sure that it is done correctly."