Patient watchdog questions Pembury Hospital PFI value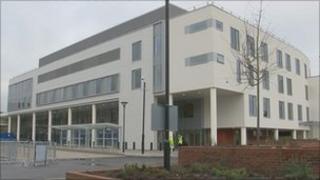 The governor of a patients' watchdog has questioned the value for money of a new hospital in west Kent.
The £225m Pembury Hospital, near Tunbridge Wells, was built through a private finance initiative (PFI).
John Ashelford, the governor of Kent Link, said under the terms of the agreement, the NHS must make payments of £20m a year for 32 years.
The Maidstone and Tunbridge Wells NHS Trust said PFI was the only way to get the hospital built.
The 512-bed hospital has 10 wards and was built alongside the old hospital, which will be demolished this year.
'No guarantee'
PFI allows public bodies to avoid paying upfront costs for new buildings or major redevelopments.
Private firms fund projects, while the public sector makes repayments over 30 or 40 years.
Mr Ashelford said the repayments were a "massive commitment".
He said: "It's £20m a year but every year it's going to be indexed by inflation and the numbers will keep growing.
"There's no guarantee that the funding they receive from the public purse will match that increase."
In a statement, the trust said: "The cost of PFIs is well documented.
"PFI was the only method available to fund a much-needed new hospital."