Chiddingstone historic shop lease up for sale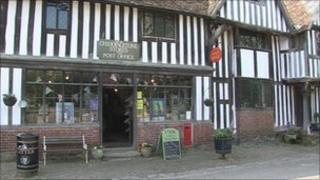 A village shop which has been trading for more than 400 years will soon add a new name to its list of proprietors.
Sallie Stevens, the Chiddingstone village shopkeeper, is giving up the lease which includes a tearoom in converted stables.
A new shopkeeper is being sought to buy the lease for the building, which dates back to at least 1453.
Chiddingstone, which has been owned by the National Trust since 1939, is an example of a Tudor one-street village.
Ms Stevens said some of the floorboards on the first floor are thought to be over 600 years old, and some walls are made from wattle and daub.
Leases from 1453
The set of leases documents the previous owners, who include Thomas Boleyn, Anne Boleyn's father, who owned the building for about nine years.
"I have translations of leases for the building dating from 1453," said Ms Stevens.
"The shop is first mentioned when it changed hands to a tailor in 1593 with two pillars and two counters."
The room upstairs, now used as a bedroom, was once a tithe room, where taxes were paid in the form of goods as well as money.
It is believed the entrance door was built small so that a sword could not be drawn when entering the room and the owners robbed, said Ms Stevens.
She has been running the village shop for the last seven years and the new owner's name will be added to a very long list of Chiddingstone shopkeepers.