Margate's Turner gallery has 45,500 visitors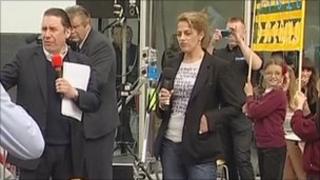 More than 45,000 people have visited Margate's new Turner Contemporary art gallery in the 10 days since it opened.
The £17.5m gallery was built on the seafront spot where the artist JMW Turner stayed during his many visits to the Kent town.
Since it was opened on 26 April by artist Tracey Emin and musician Jools Holland, 45,563 people have visited it.
"Margate is buzzing and we are looking forward to welcoming many more," said director Victoria Pomery.
A total of 14,000 people visited on the opening weekend, double the numbers predicted.
Supporters of the gallery, funded from sources including Kent County Council, Arts Council England and the National Lottery, hope it will lead the regeneration of the town.
"The old town of Margate is becoming a very arts-focused mainstream, satellited with various very interesting shops, pubs and restaurants," said John Houston, owner of Outside the Square gallery nearby.
"It is a very appealing place for anyone to come and be a part of."
Margate's visitor information centre said it doubled its visitor numbers this Easter weekend to 1,400, from 700 in 2010.