Thieves target bee hives in Kent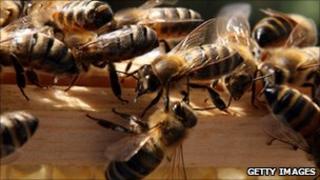 Thieves are targeting bee hives in parts of west and north Kent, keepers have warned.
The Kent Bee-keepers' Association said a decline in colonies and an increase in the number of people taking up bee-keeping could be behind the thefts.
Bee-keeper John Edwards-Windsor said five hives were recently stolen from his apiary in Otford.
And he said the theft had the "tell-tale marks of a bee-keeper who knew exactly what he was doing".
"They put a bit of tape around the entrance and just walked off with it," he said.
'Pollination contracts'
John Hendry, who chairs the Kent Bee-keepers' Association, said up to 20 hives had recently been stolen from the Gravesend and Dartford area.
He said the the hives may have been targeted by rival bee-keepers who rent their hives to farmers for pollination.
"One of the explanations is that there is a shortage of bees and therefore there's not enough colonies for the pollination contracts," he said.
"If that's the case, the colonies will probably be left at the orchards after the person has got the money for providing pollination.
"The police are taking it seriously but there's very little they can do. "