Prince Harry's polar expedition flies Dover school flag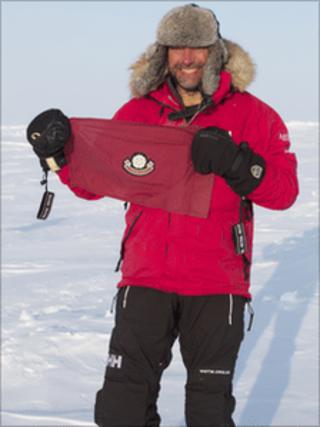 A Kent school flag has been flown at the North Pole on an expedition that included Prince Harry.
Simon Daglish, an ex-pupil of the Duke of York's Royal Military School near Dover, took part in a 180 mile (300km) trek and took the pennant with him.
The 13-day trek across the frozen polar ice cap was in aid of the charity Walking With The Wounded which supports injured ex-servicemen and women.
Prince Harry joined the team for the first four days of the trek.
Four soldiers wounded in Afghanistan also took part.
Of his experience, Prince Harry said: "I only took part in a small section of the trek, but know how physically demanding it was.
"The spirit and determination of these lads is second to none - they are role models for us all."
'Fantastic teachers'
Simon Daglish, who is also a co-founder of the charity, said: "I wanted to take the pennant flag with me because I am proud of my old school and grateful for what it gave me.
"I had fantastic teachers who encouraged me, built my confidence and made me believe that I could stand out from the crowd and achieve my dreams."
Pupils of the school, some who have parents wounded in action, watched the teams progress on the internet.
School principal, Charles Johnson, said: We are delighted with the success of our old Dukie Simon Daglish and his team reaching the North Pole.
"It is a matter of real pride that the school's pennant was flown over the Pole."