Woodland Trust legal threat over Oaken Wood quarry plan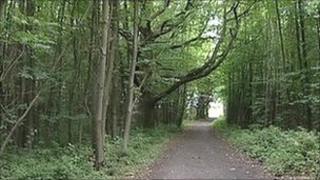 A charity has threatened legal action if plans to extend a quarry in ancient woodland near Maidstone are approved.
Kent County Council's planning committee has been advised to approve plans for the quarry extension in Oaken Wood, Maidstone, on Tuesday.
The Woodland Trust said it had taken legal advice and would fight any decision to accept the findings.
Campaigns chief Nikki Williams said the trust was "in no mood to compromise". The developer declined to comment.
Gallagher Aggregates has previously said the quarry is one of few sites in the county where ragstone can be found.
'Richest wildlife habitat'
The county council said if the plans were approved they would have to be referred to the government because Oaken Wood was not in the county's mineral extraction plan.
The quarry extension covers 14% of Oaken Wood which is 78 acres (31 hectares) in total and designated as ancient woodland.
Ms Williams, head of campaigns at The Woodland Trust said: "The unique conditions of ancient woodland make it our richest wildlife habitat, and it is literally irreplaceable.
"Once destroyed, you cannot recreate it with new planting or by soil translocation, so no mitigation put forward here can compensate for this loss."
She added: "The trust is in no mood to compromise on this issue. We have spent nearly 40 years championing woodland conservation and this year have stepped up our campaign to save the UK's ancient forests."
She said: "A staggering 85% of the UK's ancient woodland has no statutory protective designation, and Oaken Wood is a glaring example of how poorly ancient woods are served by the planning system."
Gallagher Aggregates issued a statement which said the application had been recommended for approval by council officers and would be considered by the planning committee.
"The application covers a range of issues all of which must be thoroughly considered before coming to a decision," the statement added.
It said: "It would not be appropriate for us to make further comment in advance of the committee meeting."