Oaken Wood quarry plan approved by Kent councillors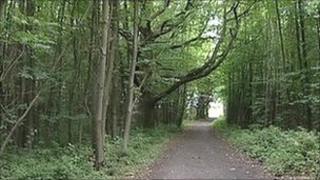 Planning permission to extend a quarry in ancient woodland in Kent has been approved by county councillors.
Kent County Council's planning committee agreed by 10 votes to six in favour of allowing 14% of Oaken Wood, near Maidstone, to be quarried.
Stone quarrying company Gallagher Aggregates wants to dig Kentish ragstone from the wood at Barming.
The decision will now have to be referred for confirmation by the Secretary of State.
The county council said the plans had to be referred to the government because Oaken Wood was currently not included in the council's local plan for mineral extraction.
'Irreplaceable woodland'
The planning application has prompted opposition from campaigners seeking to save the woodland.
The Woodland Trust said it had taken legal advice and would fight any decision leading to the loss of the "irreplaceable" site.
The Hermitage Quarry extension covers 14% of Oaken Wood, which is 78 acres (31 hectares) in total.
Planning committee chairman Richard King said councillors had made a "difficult and finely balanced decision".
"Local residents and environmental groups have argued that the loss of irreplaceable ancient woodland and impact on the local wildlife site is unacceptable.
"On balance, however, members felt the job prospects and the economic need for ragstone to support construction in the county in future, and benefits of the project, outweighed these objections," he said.
Lorry movements
About 14% of the woodland will be quarried in 15 phases, and the planning permission will require the setting up of a management board to oversee the site restoration.
Planning conditions were also imposed, including noise and dust controls, a blasting regime, a limit on lorry movements, and working hours.
Gallagher Aggregates has previously said the quarry is one of few sites in the county where ragstone can be found.
Nick Yandle, chief executive, said Tuesday's planning committee meeting "covered the relevant issues in great detail and we are clearly pleased that our proposals received a majority decision in favour".
He said the company would now await the government's decision.