Port of Dover Pc Ian Thwaites honoured for saving life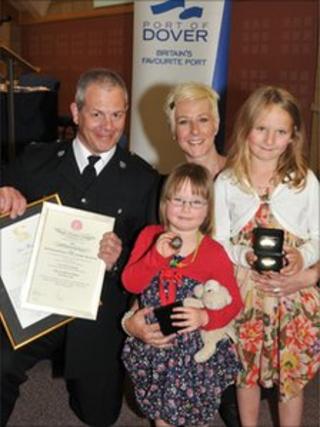 A Port of Dover policeman has been honoured for his skill and quick thinking after saving the life of a 35-year-old mother whose heart stopped.
Ria Hancock had been about to drive her two young daughters home from friends when she collapsed in her car near the Cheriton home of Pc Ian Thwaites.
He was off-duty but was alerted to the incident last November by his son.
He performed coronary pulmonary resuscitation (CPR) on Mrs Hancock until an ambulance arrived.
She was taken to the William Harvey Hospital in Ashford for treatment, and has since been diagnosed with a rare heart condition and fitted with a pacemaker.
Mrs Hancock recalled how on the evening of 27 November she had called her husband to let him know that she was on her way home, giving the phone to her six-year-old daughter, Ruby.
She then collapsed at the wheel of her car, which was still parked, leaving her daughter to run back to their friend's house to get help.
Pc Thwaites rushed outside to her aid after his son had seen what happened.
"I pulled the driver out, she was unconscious, laid her on the icy road and started resuscitation.
"When the ambulance turned up I carried on with the resuscitation," he said.
Mrs Hancock said there was no doubt she would have died without the help of the police officer.
"I have no words that can actually surmise my gratitude that my girls have still got their mum, and my husband has still got his wife, and my family have still got me around," she said.
Pc Thwaites received Dover Harbour Board's Meritorious Award and the Royal Humane Society Award in recognition of his prompt action in saving Mrs Hancock's life on Monday.
Mrs Hancock's children Ruby and Macy Rae also received Port of Dover Police awards from the Chief Officer of Police, for their bravery and quick-thinking on the day.